Blachly-Lane is Plan-Driven
It is true. Blachly-Lane is one of the highest cost electric utilities in Oregon. Dividing the costs of running an electric utility serving only 2,835 consumers means that each consumer shares more of the financial load than they would in an electric utility of 10,000 or more consumers.
Just like a limited income household, the way a small limited income business like Blachly-Lane can meet the needs of its consumers is through careful planning. Plans create stability and certainty, and allow businesses to be pro-active rather than reactive while giving their consumers what they want and need.
Let's walk through the planning process Blachly-Lane's board of directors undertakes every year to deliver its mission of safe, reliable electric service to members. The series of plans are connected— information from one plan is the starting point for the next one.
Strategic Planning
A good strategic plan answers the question, What do consumer-members want from their utility now and into the future? Every two years Blachly-Lane's Board of Directors builds a strategic plan that considers the strengths, weaknesses, opportunities, and threats of the co-op; and the current needs of the consumers.
The resulting plan pinpoints goals that support the continued delivery of safe and reliable power to the homes and businesses of Blachly-Lane members. The board of directors reevaluates the Strategic Plan every year to ensure the organization is on track to achieve its goals.
Long-Range Capital Planning
A long-range capital plan answers the question, What do our plant and electric system need to safely, reliably serve members? Through engineering studies, Blachly-Lane evaluates system weaknesses that may hinder the delivery of safe and reliable power to members.
The engineering studies point out poles, wires, transformers, switches, fuses, and substation equipment at the end of its life. The areas that require major investment become a rolling 10-year plan for investment in the system.
Long-Range Financial Planning
Now that we know the needs of our system, a long-range financial forecast answers the question, How are we going to pay for what we need to continue to provide safe and reliable power to members now and into the future? Projecting revenues and expenses over a long period align Blachly-Lane's financial plan with the strategic goal of power supply and electric system reliability.
Even with a long-range financial plan in place, unexpected things can happen— substation transformer failure, major storm repairs, or responding to external threats like lawsuits— that require financial flexibility.
Work Planning
A solid work plan answers the question, What is our timeline and what resources do we need to accomplish our plan? Every year, our Operations team selects construction and maintenance projects based on urgency and risk. We use the engineering study, reliability indices, and experience in the field to lay out work for our crews up to a year ahead of time. Our outside line workers and support personnel know what projects lay ahead early each year.
Budgeting
Budgeting answers the question, How are we going to balance the needed investments with expenses? Fixed costs like debt service, personnel, property taxes, insurance, billing, depreciation, and scheduled plant maintenance are predictable and don't vary with sales. Variable costs at your electric utility— things like the costs of power (about 52% of Blachly-Lane's total costs) and operations— are more volatile because they fluctuate with sales.
Blachly-Lane managers work on the annual budget for months before submitting it to the board of directors for approval. That time is spent balancing our consumer's needs for safe, reliable electric service with finding the lowest-cost ways to meet those needs.
Rate-Setting
The budget determines the revenue requirements of the utility, which are the starting point for setting rates. A foundation of any cooperative business is that each consumer pays their fair share of the co-op's expenses. Every few years, an independent cost of service study is done to determine how much of each cost belongs to industrial, commercial, or residential members. The costs are allocated equitably to each rate class and become the Electric Systems Charges and kilowatt-hour charges for each class.
Even with rates higher than our neighbors, Blachly-Lane is in the lower third of utility costs across the nation. However, prices and bills don't have a one-to-one correlation. The US average for residential electric energy consumption is 897 kWh per month. The average electric energy consumption for Blachly-Lane residential consumers is 1,300 kWh per month, a factor the consumer controls.
The consumer-elected Blachly-Lane board of directors takes their fiduciary responsibility seriously in service to the community in which they live and the members they serve. Each step of the way, the board follows a utility-specific system of planning and rate-setting for today and the future of the co-op.
~~~~
NOTICE OF FAILURE TO CLAIM
CASH RETIREMENTS OF CAPITAL CREDITS
OF BLACHLY-LANE COUNTY COOPERATIVE ELECTRIC ASSOCIATION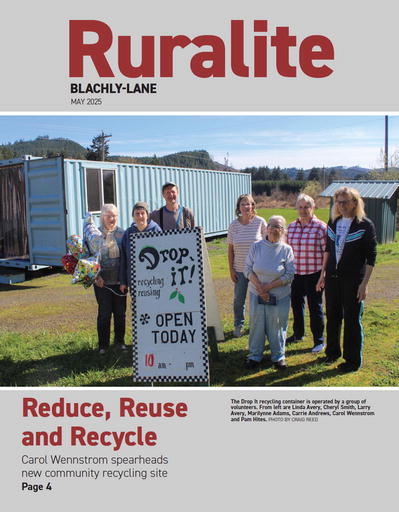 Mission Statement
Blachly-Lane provides safe, reliable electric services for our consumer-members.